From the beginning, MCF has operated not as a seller of parts, but as a developer of solutions. It's a more challenging path – and far more beneficial to our customers.
Smart people...empowered to innovate
MCF realized early on that success required building a highly qualified, experienced team. But we also look for people willing to embrace MCF's core principles:
Identify the true needs of our customers. How can we help the person on the other end of the line do their job and meet their goals? How can make their day easier and less stressful?
The scope of work is just a starting point. Our team's philosophy: go beyond to tackle problems or exceed customer expectations. Sometimes, that means a rush delivery on Christmas Eve. Other times … helping them find more efficient processes.
Always be accessible. Always be responsive. MCF is purposefully built with very little bureaucracy. That means our experienced people can mobilize on a dime to identify and deploy solutions.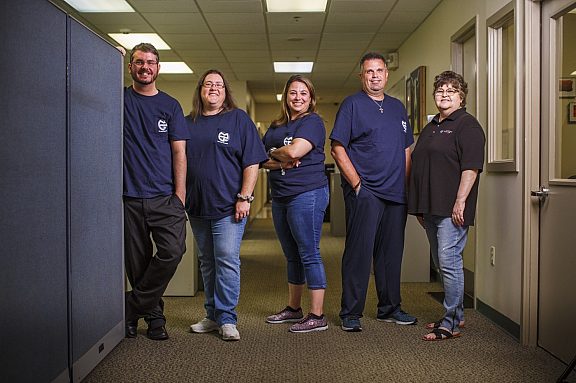 A different approach
Over several successful decades, MCF has learned vital lessons that have led to a handful of core principles that drive our unique approach … and benefit our customers:
Challenges represent opportunities. Sometimes, serving a customer has meant working to manufacture a custom part or explore a new service offering. Over time, we realized this approach leads to growth – customers appreciate our people rising to the challenge … and prospects have more options.
Think differently. Often, the best solutions require MCF to take a hard look at "we've always done it that way." We've learned the best ideas are sometimes the most novel and creative.
Invest in the future. We're not content to stand still. MCF has always invested in new people, new equipment, new assets and new ways of doing things.
Since the day it began operations, MCF has been committed to the continuous improvement of both products and processes.
MCF maintains a focus on quality, accuracy, customer service and integrity that is unmatched in its industry. MCF supports its dedication to quality with the best-trained technicians, as well as the industry's leading-edge manufacturing, testing and distribution equipment.
MCF's commitment to quality consistently results in the highest customer satisfaction and recognition from its clients, which include some of the largest companies in the HVAC, Defense, Aerospace, Commercial Truck, and Consumer industries.
Getting the job done: resources and capabilities
With locations in Pennsylvania, Georgia, and Indiana, MCF spans 182,500 square feet of manufacturing, engineering, testing and packaging space. The company manufactures, tests and distributes 115,000+ line items each year: fasteners, washers, bolts, screws, and fittings, among many others.

MCF offers comprehensive AS9100D aerospace-certified quality engineering, machining, testing, and packaging systems to ensure accuracy in production and distribution.
The benefit: our customers in every industry benefit from MCF ability to apply a greater level of statistical process control and higher standards.
Some of MCF's key offerings:
Wireless warehouse management systems with positive barcode scanning technology for secure inventory management
Defect-free machined components with on-time precision accuracy
Multiple in-house CNC machining centers
High-end vertical and horizontal milling units with highly-qualified machinists bringing decades of experience to projects
State-of-the-art statistical process central software to monitor and improve processes
Climate-controlled inspection and testing centers
Multiple two-die thread-rolling centers with vertical in-feed, inch/metric and large diameter capability
Custom kitting and packaging with fully automatic poly baggers, bar coding and label formatting